Overview
It shouldn't hurt to get to your feet in the morning or walk throughout your day, but if your steps result in stabbing or aching pain in one or both heels, you may be suffering from heel spurs. Also known as calcaneal spurs or osteophytes, heel spurs are pointed, hooked or shelf-shaped calcium build-ups on the heel bone (calcaneus). While the spurs, themselves, do not sense pain, their tendency to prod the soft, fatty tissues of the heel can result in severe discomfort with every step you take. This article will teach you what you need to know about heel spurs so that you can understand your symptoms and find fast relief from your pain.
Causes
A heel spur is caused by chronic plantar fasciitis. Your plantar fascia is a thick fibrous band of connective tissue originating on the bottom surface of the calcaneus (heel bone) and extending along the sole of the foot towards the toes.Your plantar fascia acts as a passive limitation to the over flattening of you arch. When your plantar fascia develops micro tears or becomes inflamed it is known as plantar fasciitis. When plantar fasciitis healing is delayed or injury persists, your body repairs the weak and injured soft tissue with bone. Usually your injured fascia will be healed via fibroblastic activity. They'll operate for at least six weeks. If your injury persists beyond this time, osteoblasts are recruited to the area. Osteoblasts form bone and the end result is bone (or calcification) within the plantar fascia or at the calcaneal insertion. These bone formations are known as heel spurs. This scenario is most common in the traction type injury. The additional bone growth is known as a heel spur or calcaneal spur.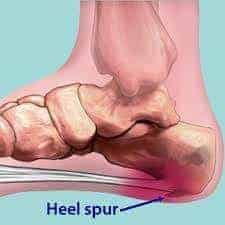 Symptoms
Most of the time heel spurs present as pain in the region surrounding the spur, which typically increases in intensity after prolonged periods of rest. Patients may not be able to bear weight on the afflicted heel comfortably. Running, walking, or lifting heavy weight may exacerbate the issue.
Diagnosis
Your doctor, when diagnosing and treating this condition will need an x-ray and sometimes a gait analysis to ascertain the exact cause of this condition. If you have pain in the bottom of your foot and you do not have diabetes or a vascular problem, some of the over-the-counter anti-inflammatory products such as Advil or Ibuprofin are helpful in eradicating the pain. Pain creams, such as Neuro-eze, BioFreeze & Boswella Cream can help to relieve pain and help increase circulation.
Non Surgical Treatment
Treatment of Heel Spurs is the same as treatment of plantar fasciitis. To arrive at an accurate diagnosis, our foot and ankle Chartered Physiotherapists will obtain your medical history and examine your foot. Throughout this process the physio will rule out all the possible causes for your heel pain other than plantar fasciitis. The following treatment may be used. Orthotics/Insoles. Inflammation reduction. Mobilisation. Taping and Strapping. Rest.
Surgical Treatment
Approximately 2% of people with painful heel spurs need surgery, meaning that 98 out of 100 people do well with the non-surgical treatments previously described. However, these treatments can sometimes be rather long and drawn out, and may become considerably expensive. Surgery should be considered when conservative treatment is unable to control and prevent the pain. If the pain goes away for a while, and continues to come back off and on, despite conservative treatments, surgery should be considered. If the pain really never goes away, but reaches a plateau, beyond which it does not improve despite conservative treatments, surgery should be considered. If the pain requires three or more injections of "cortisone" into the heel within a twelve month period, surgery should be considered.
Prevention
o help prevent heel and bone spurs, wear properly designed and fitted shoes or boots that provide sufficient room in the toe box so as not to compress the toes. They should also provide cushioning in appropriate areas to minimize the possibility of the irritation and inflammation that can lead to bone spurs in the feet. If needed, use inserts that provide arch support and a slight heel lift to help ensure that not too much stress is placed on the plantar fascia. This helps to reduce the possibility of inflammation and overstress. Wearing padded socks can also help by reducing trauma. Peer-reviewed, published studies have shown that wearing clinically-tested padded socks can help protect against injuries to the skin/soft tissue of the foot due to the effects of impact, pressure and shear forces. Also consider getting your gait analyzed by a foot health professional for appropriate orthotics. If you have heel pain, toe pain or top-of-the-foot pain, see your doctor or foot specialist to ensure that a spur has not developed.